New Hockey Players
The First Shift
---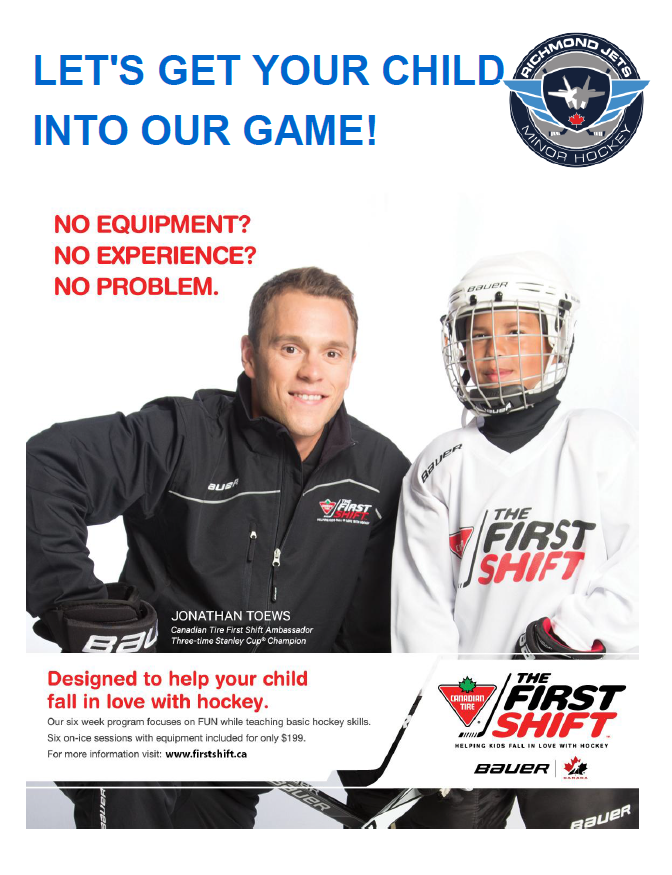 Richmond Jets Minor Hockey Association is very proud to offer Hockey Canada's First Shift program
Each program includes one off-ice, information and equipment distribution session plus six one-hour ice times.
This amazing program is a great way for boys and girls (aged 6-10*) to try our great sport.
For just $199, the players are outfitted, head-to-toes in brand new hockey equipment (which is theirs to keep). About two weeks later, the players begin their on-ice sessions at Richmond Ice Centre.
About a dozen Richmond Jets Minor Hockey Association coaches work with the players, mainly in small groups, and introduce skating skills and hockey skills.
When the First Shift program ends, we offer a follow-up program that provides an opportunity for all participants to continue their hockey journey.
To register your son or daughter, please visit http://www.firstshift.ca/
If you have questions about the program, please contact Amber.Kovich@richmondjetsmha.com
* Younger players should register for our Hockey 1 program. Older players should register for Intro to Hockey.